Automatic Controls History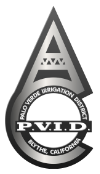 In an effort to improve service to water users, PVID began a program in 1976 to modernize its canal structures by installing radio-controlled telemetry equipment. A central station was installed in the dispatcher's office which is monitored on a 24-hour basis. Initially, remote control of five key control structures, including Palo Verde Diversion Dam, was obtained. Equipment was installed to respond to signals initiated from the central station to raise and lower gates. Water surface elevations and gate openings were monitored utilizing solid state digital techniques. After several modifications to the original system, the desired result was realized. Modernization over the next few years progressed slowly. In 1980: one new station was added that controlled three structures; a new state-of-the-art microprocessor-based central station was installed to replace the original, by then obsolete, central station; and four hi-iow water alarm units were installed.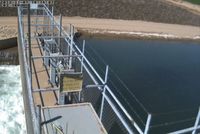 With these key structures converted, service to the farmer was improved. To further improve service, management initiated an accelerated effort in the spring of 1984 to add more stations to the system. Assistant Watermaster Danny Hollis was appointed to head up the program. During that year, four structures were converted to telemetry control and the four old hi-low water alarms were removed and replaced with a new style alarm. This version transmitted a prerecorded voice message over all PVID radios describing the problem which set it off. A positive movement motor driven worm screw gate lift mechanism was devised by Danny for all structure conversions in 1984. This mechanism replaced hydraulic operated lifts and was used oh future installations.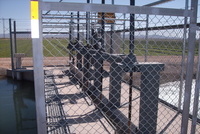 Seven structures were converted in 1985. Three of these were controlled by telemetry. Four were controlled by a timed float system that automatically maintains a constant water surface elevation above the check structure. Ten additional voice hi-low water alarms were installed at various key locations in the canal system. Early in 1986, management established the Automatic Controls Division of the Water Department to install and maintain telemetry and associated systems. Danny Hollis became its superintendent, with two full-time employees. The hydrographer also assists in maintenance and repair work when needed. At the end of the 1985-86 Fiscal Year: fourteen structures were either controlled or monitored by the telemetry system; six were controlled by timed float systems; and fourteen locations had voice hi-low water alarms.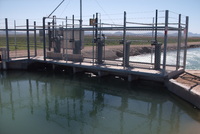 Over the next 32 years Automatic Controls continued to automate the PVID canal system. This resulted in 162 automated structures and one central location to control/monitor all checks and stations.