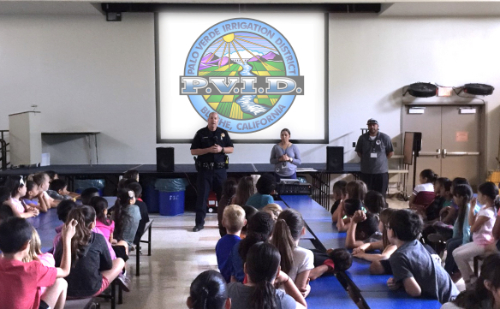 Palo Verde Irrigation District sponsors a yearly Safety Program in cooperation with the California Highway Patrol, through all the schools throughout the Valley. We visit each school, show slides of the canals and drains in our valley, and pass out the "Big Al" safety book. We talk to the children about canal safety and impress upon them to "Be Cool, Swim in a Pool".
We also sponsor a booth at the annual Summer Safety Extravaganza, put on by the Blythe PAL (Police Activities League). This free event is a fun day for children, located at the fair grounds each year. Water activities of all kinds are set up for the children to enjoy, along with lots of food, games and prizes. All participants receive water safety material and numerous school supplies.
PVID's 250-mile system of canals delivers water to the Palo Verde Valley. And that is what canals are designed for — to efficiently carry water. They are not meant for swimming. Canals are dangerous and should not be used for swimming. Even if the surface water appears smooth and calm, there are many areas where the current can swiftly pull an individual under—especially a child.
If you are going to Fish, walk, jog, or bike along the canals, be sure you know how to do so safely. Canals can be very dangerous, so please follow these canal safety tips to avoid drowning or injury.
Safety Tips & Info
Don't swim in canals — ever!
Keep a safe distance from the edges of the canals.
Canals have steep slopes and slippery walls. The concrete or earthen sides of ditches and canals are sometimes steep and possibly slippery, making it difficult to climb out.
Debris (trash and garbage) and other dangerous things can be found in canals.
Stay away from automated equipment, siphons, culverts, and drains.
Canals contain water that is quickly moving. Fast-moving water in a narrow channel can knock a person off their feet. Even water that is only a foot deep, if it is moving fast enough, would cause you to lose your balance and be carried away.
Dry canals are not safe because there is no way to know when water may be released and you may be trapped by a surge of water.
Canals can have deep water. If you cannot swim or if you are hurt, falling into deep water could prove fatal. In addition to swift currents, irrigation canals may have undertows and turbulence that could drag even a strong swimmer under water.
There are pipelines and delivery gates in the canals and laterals where water is being diverted. These structures can cause a suction effect trapping a person underwater.
Big Al Coloring Book